Coinslotty Casino Mobile App
Play all the casino games you want from any location, with only an internet connection and your mobile device with the Coinslotty Casino App. Coinslotty is a popular crypto casino in Canada. The casino meets the needs of gamblers by providing games from secure game providers, generous bonuses, and lots more. Coinslotty is constantly improving its services to offer a better experience for gamblers. This is why the Coinslotty Casino Mobile App was developed.
Research has shown that most people spend a lot more time using their phones than with their mobile devices. Online casinos are developing mobile apps to meet this need and serve users better. The Coinslotty Casino mobile app was also designed so gamblers can access the online casino easier. The mobile version also allows you to place or monitor your bets from wherever you are and without any stress. The gambling process is made a lot easier and twice as fun with the mobile app.
The Coinslotty Casino mobile version stands out from other apps because of its attractive and easy-to-use interface. Play your favourite crypto games from your hands in this casino slots app.
You can learn all about installing, receiving bonuses, getting started in the app and lots more if you read through till the end.
Installing the Coinslotty Casino App
Follow some basic steps to get the Coinslotty mobile app installed on your phone. Most people are used to downloading independent mobile apps from app stores. The Coinslotty casino app is not on app stores because it is a PWA version of the casino website.
To get this casino slots app on your phone, open this website with your mobile device and select the prompt to download the mobile app on your device. The link would download and install the mobile app on your phone.
Once the Coinslotty mobile app has been installed on your device, the app will appear amongst other apps in your app menu. You can also access the mobile casino app through the browser you downloaded it in. Whichever way you prefer to access it, you now have the Coinslotty casino app ready for use on your mobile device.
Using the Coinslotty Casino App
After installing the Coinslotty mobile app, Coinslotty Casino requires that you register an account with the casino to start enjoying the app. Once you are registered, you can make your first deposit to play games for real money in this crypto casino.
The app is straightforward to navigate, but you can jump to the support icon if you encounter any difficulty while using the app. Coinslotty has a team of responsive staff always available to take and respond to customer complaints. The Coinslotty mobile app also allows you to access the casino offline, and you can connect and compete with friends if you link the mobile app with other apps.
Also, since you are using the Coinslotty app on a small phone, you need to take regular breaks. So, your screen doesn't harm your eyes. When using desktops, most people take breaks or don't use them for extended periods, and you should do the same with your mobile devices. The Coinslotty casino app can be accessed with a mobile phone, but it needs an internet connection to function optimally. Ensure your connection is good and stable, so it doesn't cut you off in the middle of a money bet on Coinslotty.
IntThe Interface of the Coinslotty Mobile App
MThe interface of the Coinslotty Casino app is designed to be attractive and easy for everyone to use. The mobile app is designed with the same look as the casino's website. If you have been gambling on the casino's website, transitioning to the mobile version would be easy for you. Newbies would also understand the site's interface quickly because there are guides and cues to ease navigation.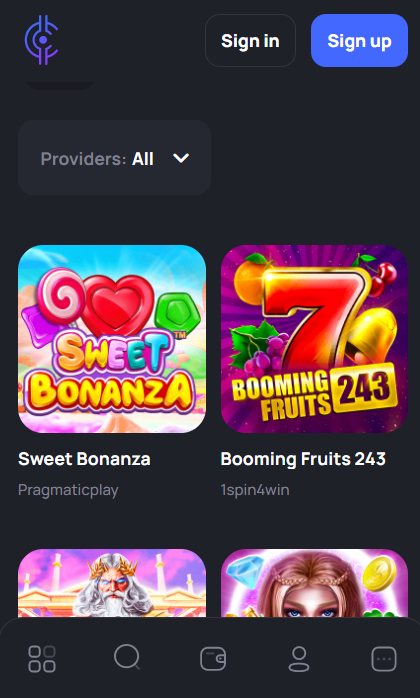 Account Registration and Deposit in the Coinslotty Casino App
To start playing casino games for real money on the Coinslotty Casino mobile version, you need to register an account with Coinslotty and make your first deposit.
To register, simply find the Sign Up option on this website. Select it and follow the steps provided. If you already have an account, log in, and you're good to get started. Coinslotty also recommends completing your ID verification early to avoid any future hassles.
After your registration, you can make your deposit. Coinslotty accepts crypto transfers. Select the wallet you wish to deposit in and make the transfer to it. Once this is done and confirmed, your first deposit is complete.
How to Get Bonuses through the Coinslotty Mobile App
Coinslotty always has rewards for gamblers at the online casino. As a new mobile user, you have activated the Coinslotty Verify Your Phone bonus by just confirming your phone number.
There are tons of other bonuses available, and you just have to find them and meet their requirements to activate them. You can discover new bonuses by following Coinslotty's social media handles and keeping close attention to the community. This way, you wouldn't miss the limited Coinslotty bonuses as they drop.
You can also purchase in-game bonuses in the Bonus Shop with Status Comp Points.
Security
Security is essential in online casinos. Users' data, money and the casino's games must be secure and safe at all times. Coinslotty Casino places a high priority on providing a secure environment for gamblers in the casino.
Coinslotty uses state-of-the-art SSL technology to protect players' information on the mobile app and the website at all times. Also, Coinslotty is a licensed casino, so users can rest assured that its software and systems have been accessed to be genuine and safe for use.
In addition to all these, Coinslotty does not accept games from just any games provider. The provider must be licensed, and the casino also investigates the software developers before adding their games to the casino. Whether you're using the mobile app for mobile playing, or gambling in Coinslotty from the desktop site, Coinslotty is always safe.
Pros and Cons of the Coinslotty Mobile App
Pros
The Coinslotty mobile app is readily available for you to use. Opening the casino by pulling out your phone and selecting the casino's icon from your home screen is a lot easier than the other methods available for entering Coinslotty. 
Another advantage of the mobile app is that it allows you to connect with friends by linking with other apps. You can take the fun in casino games to the next level when you start playing and competing with friends in the Coinslotty casino app.
If you are ever bored and wish to play some casino games for free, you can open the mobile app and play to your fill. The good part about this is that you can win some points while playing for free in the casino. You can exchange those points for cash later on.
Cons
If you have been using the casino's desktop version, you must prepare yourself for a smaller view of your favourite games. If our mobile device has a big screen, you do not have to worry about this.
Also, when playing in the casino from your mobile phone, some distractions you would not face on your computer would come up here. Notifications or calls are the most common. If you do not use features like 'Do not disturb' when gambling, they could disturb your gameplay.
The Coinslotty Casino Mobile App works offline, but you can't make money playing offline. You need to be connected to the internet to play money games. Gamblers with no internet connection would be cut off from the casino while their connection is down.